Immediate action is required to halt the COVID-19 pandemic and treat those it has affected. It is a practical and moral imperative that every tool we have at our disposal be applied to develop and deploy technologies on a massive scale without impediment.
We therefore pledge to make our intellectual property available free of charge for use in ending the COVID-19 pandemic and minimizing the impact of the disease.
We will implement this pledge through the Open-Covid license below that details the terms and conditions under which our intellectual property is made available for all to use during this pandemic period.
Projects For All To Use ‣
Projects For All To Use ▼
001 – A Better Aerosol Shield


An ongoing, pro-bono development of a light-weight, disposable and high coverage Aerosol Shield. This is being tested and iterated at this point and undergoing further improvements. When the solution is optimized, we will share the instructables and fabrication dimensions here to allow communities to have this wherever it is needed.
Follow This Project
002 – Home Nudge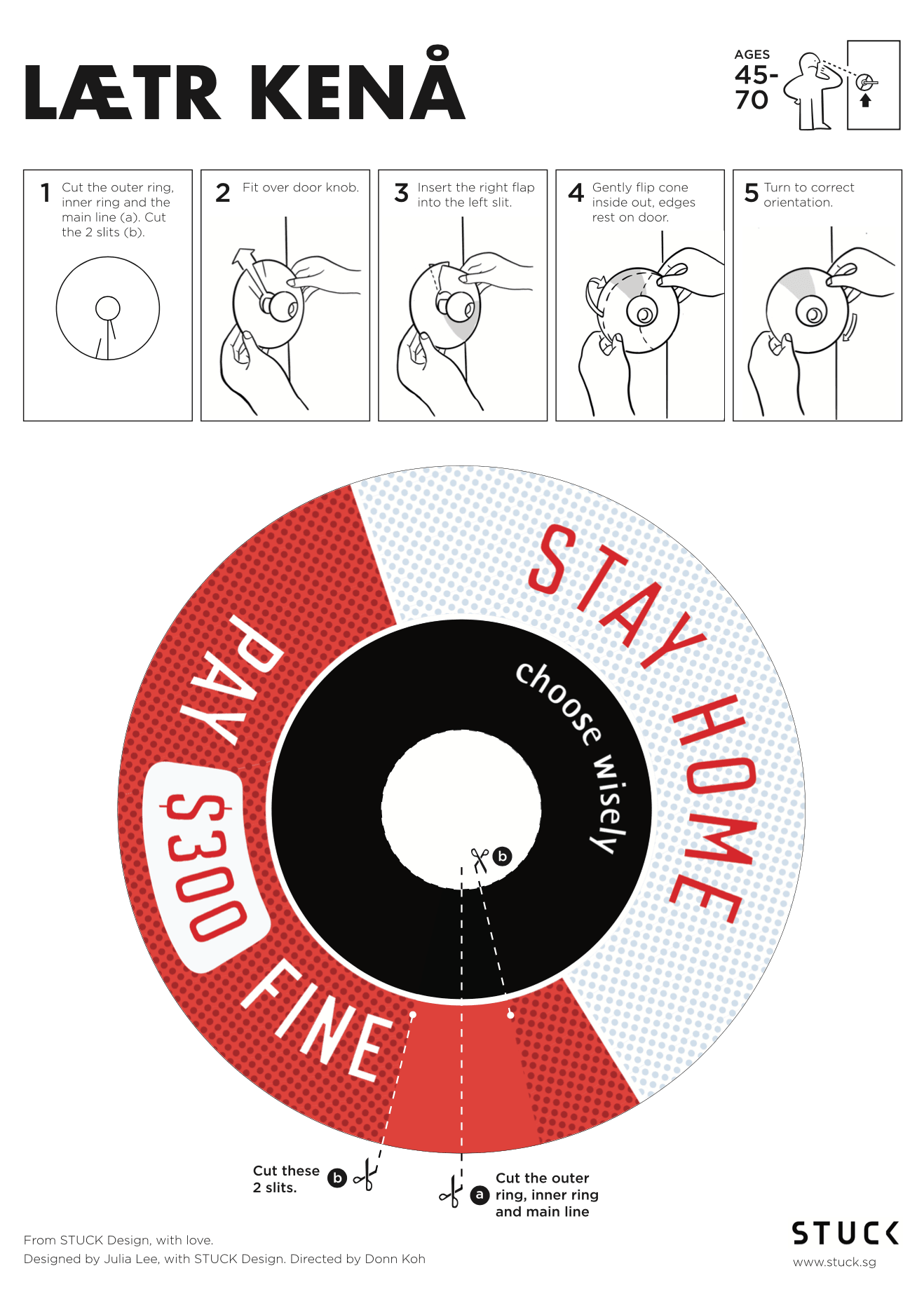 On the lighter side of innovation, we developed a series of 10 'print-it-yourself' door hangers, so that people can use them as a non-confrontational way to remind their family members to stay at home during the COVID-19 crisis.
Learn More
Download the DIY kits
003 – UV Cover for Mask Box

A pro-bono prototype for Dr. Francis Ho, an oncologist on the frontlines of COVID-19, to probe the potential of a single-sided UVC sterilisation solution to be used in conjunction with disposable food storage boxes for clean handling. Stay tuned.
Follow This Project
004 – X-Hood
X-Hood, designed for a major hospital in Singapore as part of our Covid-19 efforts, is a light-wearing, disposable hood that helps to contain infectious droplets when patients are being transferred. Prioritizing low costs, quick production techniques, and versatility, this method of creating a head-worn droplet containment shell provides an added layer to minimize cough droplets from dispersal, while achieving comfort and dignity for the patient wearing it. The project is currently in progress for optimization of ventilation comfort, increased certainty of the seal, and further reduction of costs.
Follow This Project
005 – Multi-Band Porthole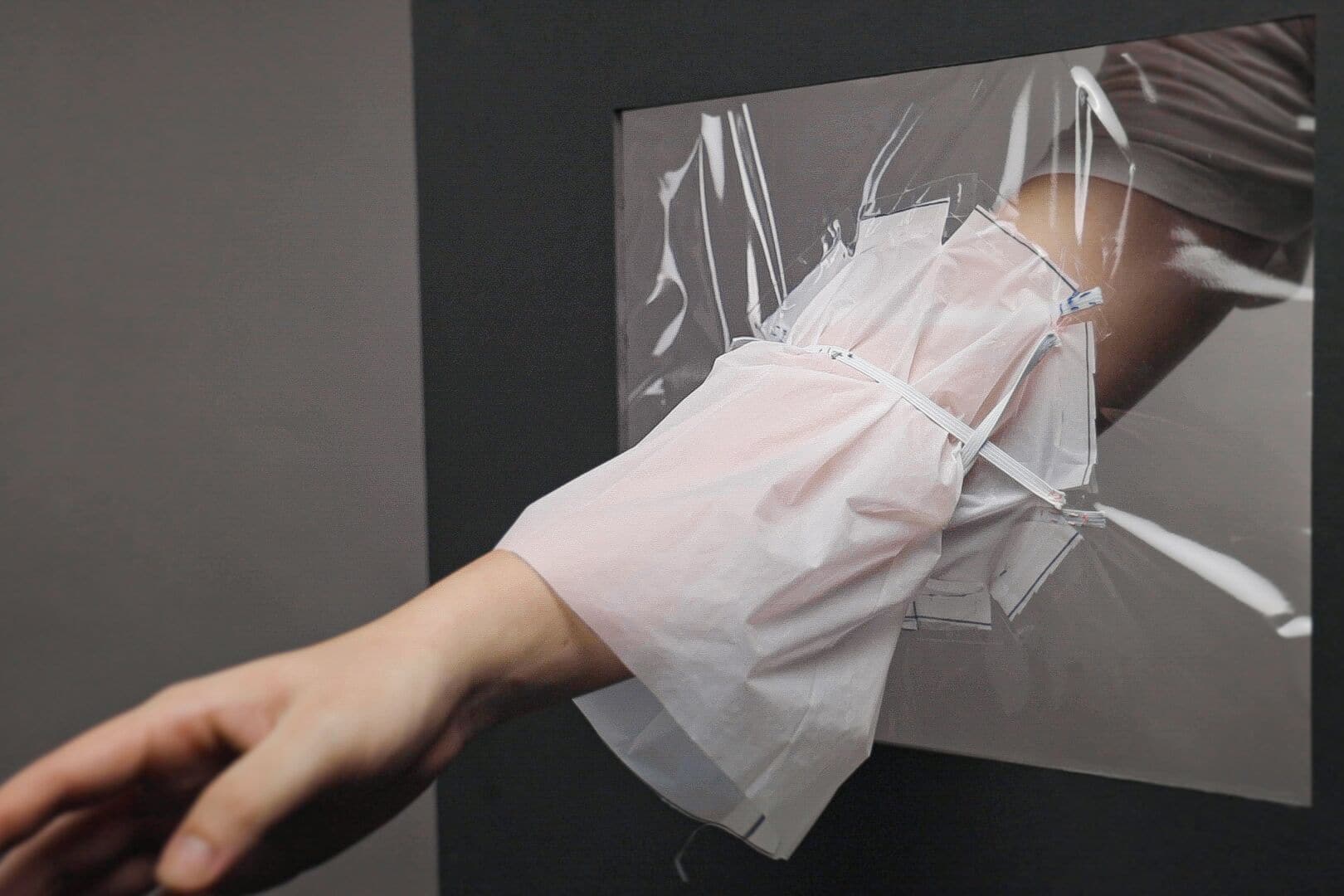 Self-sealing portholes are vital during infection crises. Without a good way to allow entry and exit of hands and equipment, infection-control enclosures and barriers become pointless. Part of our Covid-19 efforts, therefore, focuses on creating new mechanisms that can be easily and quickly constructed for such purposes and implementable in a wide variety of situations. The MultiBand Porthole is one new development that utilizes a clever arrangement of elastic components, along with the aid of a soft conduit, to provide an ugly but effective barrier that creates good hole closure while providing the operator with a high degree of flexibility and dexterity.
Follow This Project
006 – Quick-Seal Porthole
As another leading candidate in our development of self-sealing portholes, we found a way to use elastic layers, combined with clever geometry, to create an almost magical gateway which opens only as much as it is being pushed, and forms an incredibly close-hugging seal around objects or a doctor's arm. This solution is neat, compact, and easy to manufacture, and provides unparalleled freedom of motion while maintaining a closed state. The only way to describe this is to see it in action or to put your hand through it. We think this has immense application possibilities as gateways for arms and equipment, as well as for closures around the neck or torso for medical purposes, and its possibilities for non-medical use is also attractive in the way it provides an almost 'magic portal' type of interaction for preventing unwanted physical or visual intrusion.
If you'd like to license this for use in for non-pandemic purposes, write to us here. Your commercial support will help us continue to serve the community with necessary and non-paying innovation.
Follow This Project
---
Covid-19 | We want to help you for free
If you are a healthcare worker, educator, or work in the government, and you spot a need for urgent innovation to help everyone out – We want to help you make this happen.
© 2020 STUCK Design Pte Ltd. All Rights Reserved.