Because we say the wrong things, and because we aren't perfectly compliant ourselves.
Against COVID-19, many countries have enacted the necessary rules to keep people at home. At home, you might find yourself nagging at family members to 'do their part' by not going out. Perhaps, you have experienced the futility of your words and the confused emotions that this brings. So let's face the mess of social dynamics in this article below:
Download the Door Hangers
When we tell others to be responsible, are we trying to protect our "stubborn and reckless" household members, or are we doing this for self-preservation? Are we scaredy-cats, or are we holier-than-thou? How do we not sound judgemental? How does one convey importance gently? Maybe sugarcoat it with some humour? Will we be taken seriously? Are children crossing authority lines by asking their parents to comply? How shall they handle dismissiveness? Are you just paranoid? And moreover, where do you find the moral ground to tell others off, if you slip up here and there too?
And besides, just like love languages differ, the way we speak to different family members must be appropriate for the demographics – lest they fall on deaf ears. We think the following insights – and a few cheeky tools our team of designers have made for you – may help us all behave better in this crisis. We present to you, the COVID-19 Door Nudges.
---
Let's Help Keep Each Other at Home
A printable, confrontation-free homemade nudge based on demographic insights
It's not often that a global pandemic strikes, requiring the cooperation of every generation. Everybody is differently motivated, so what does it take to nudge each family member into doing their part? Using the doorknob as a site of intervention, we've designed door hangers you can easily download and print, to help remind each other not to open that front door.
A downloadable door hanger with soft colours to teach our little ones about the global crisis
Demographic 1: Our Younglings Awareness & Advocacy for Our Littlest Warriors
Little kids don't get to decide to go out or stay in. But when they are taught the words for what is going on in the world, they can be the most effective advocates for getting Grandpa to stay home. Get crafty with your kids while taking this quality time to educate them. Besides, it'll help them whine less about soccer class being cancelled. Here are 3 different door hangers you could download, print and assemble with your young Padawans – One for the more excited spirits who learn best with lasers and space invaders; one for those who prefer the soft and coordinated Montessori-like palettes; and the last one is like a colouring book for the more exploratory learners.
For those kids for simply learn better with more pew pew pew pew pew pew pew pew.
A 'colour-it-yourself' version for a session of home-based learning with your kids. Download 1 - PDF for Kids
Demographic 2: Our Feisty Youths Protect Us, Invincible Ones
As the strongest and healthiest members of society, our teens and tweens are prone to misplaced bravery, ignoring potential risks to their own health. In a format that resonates with them, a plea to consider their effect on others may soften their stubborness. Though seemingly invincible themselves, they can be persuaded to have a heart for other groups at risk, such as their own grandparents.
Demographic 3: Millennials My Cultural Projection In Style
Millennials align themselves to worthy causes, and are natural advocates for good. Having grown past the age of identity crises and fashion experimentation, they make confident aesthetic choices in their lives and use them as cues to tell the world who they are and what they believe in. Eschewing overt propaganda and having a slight disdain for authority, their voice of advocacy is often wrapped in covert packages of subtlety, wit, cultural symbols and style.
Download 3 - PDF for Millennials
Demographic 4: Heads of Households Cost-Benefits Analysis
Baby Boomers and Generation X can have the tendency to pull the wool over their own eyes, forwarding chain- advice over Whatsapp while ignoring protocols themselves. Between believing 'it will never happen to me' and the need to uphold decade-old routines, it's hard to keep them indoors. Convince the punishment-motivated generations with peer pressured guilt, or the more tangible threat of fines.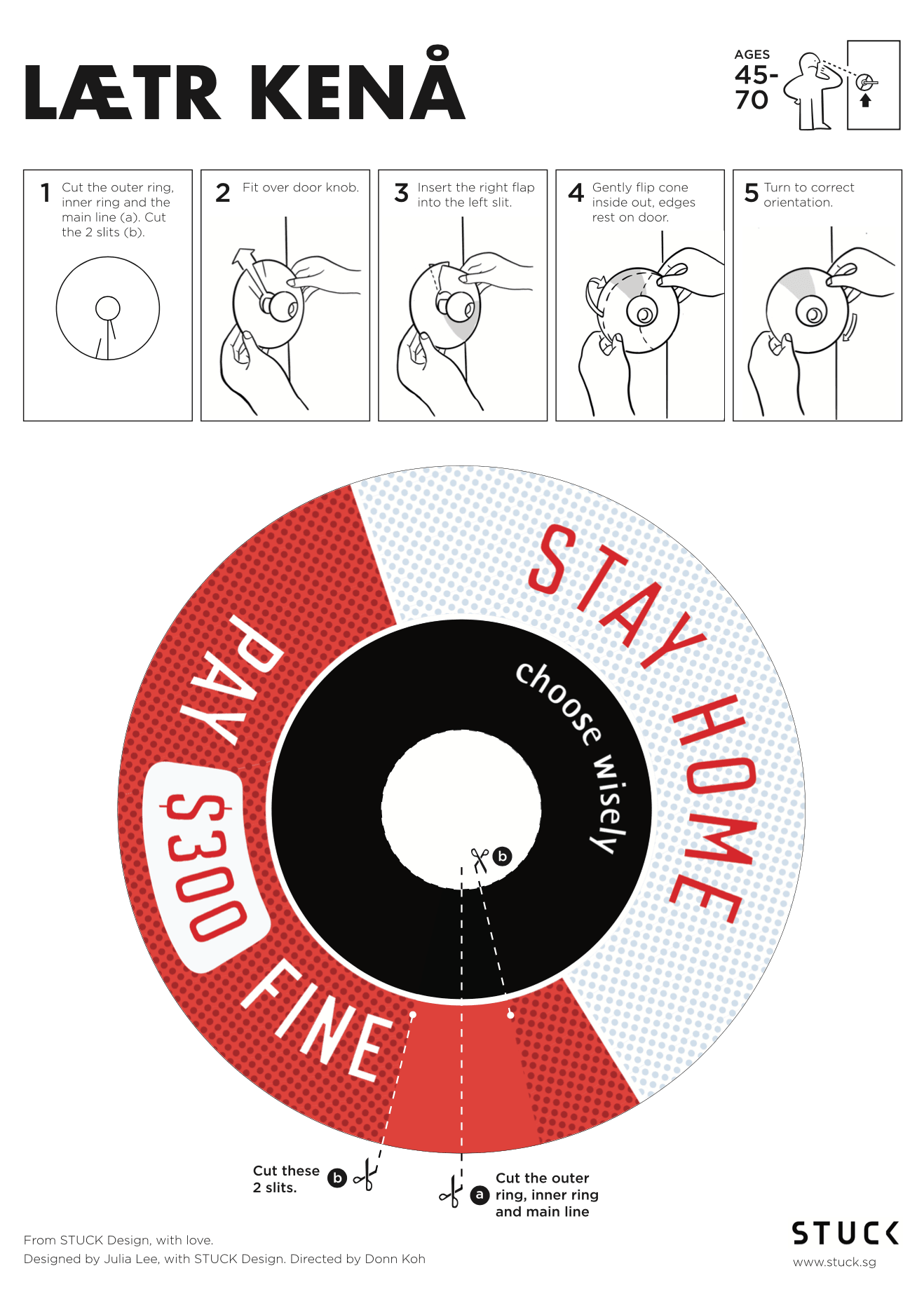 Download 4 - PDF for Household Heads
Demographic 5: Our Seniors A Simple Message in Confusing Times
Elderly folks rely largely on hearsay, often being the last to receive circulated knowledge. By the time it reaches them, there's no telling how accurate the information is. Cutting through all the gossip and conflicting advice, an official-looking 'danger' sign can appeal to their trust in familiar authority, while delivering a clear message.
Download 5 - PDF for Elderly
---
Sometimes a nudge at the right moment, and at the right place, can create a rational pause to restrain our impulses to roam. Do share this, so that with each small dose of persuasion, we shift the curve together.
The STUCK team wishes safety for all your loved ones, and may your times at home become new opportunities for strengthening and restoring relationships instead of friction. Be good, stay home and stay healthy.
If you are an artist/designer, and would like to use your talents to create more nudges for the world, download our Adobe Illustrator template here. We release this for your free use under the Creative Commons license.
Download Blank Ai Template
Download the Door Hangers
Discover all our COVID-19 initiatives here:
WRITTEN BY
Julia Lee & Donn Koh of STUCK Design

DESIGNED BY
The Stickies